Airbnb has completely changed the game for travellers.
No longer do we to have face the all too limited choice between a hotel or hostel for our accommodation. Now we have the potential to choose a cute little Parisian studio, a townhouse in New York's hipster district, a secluded Italian farmhouse or a modern, centrally equipped apartment in London – and everything else in between. And we get to have it all to ourselves.
We've used Airbnb countless times, from short weekend trips to Berlin, week long stays in Buenos Aires and nearly a month in Brazil. And it's something we'll continue to use for lots of future adventures.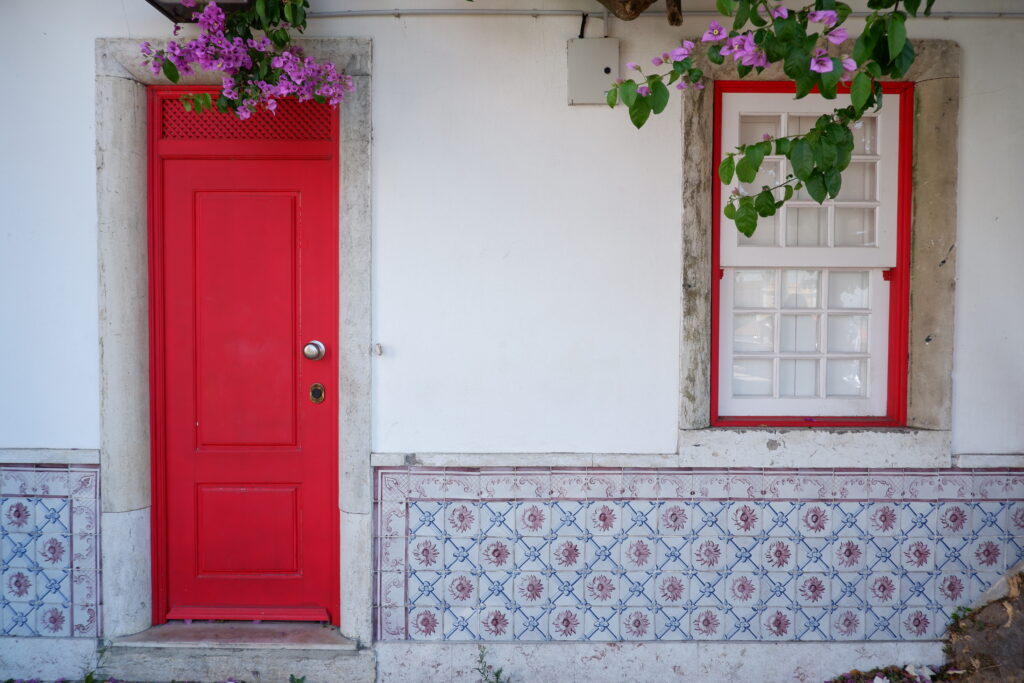 With its dramatic global growth, it's now a more feasible alternative for long-term slow travellers too and it helped us out more than once during our two year Latin American adventure. In fact, alongside housesitting, a week or two in our own place when we were just about ready to kill our dorm mates (through no fault of their own) and had pretty much got bored of travel, it saved us.
Whilst it may not come with a four-legged friend, and it's certainly not free, renting on Airbnb can often work out significantly cheaper than a hostel or hotel, especially if there's more than one of you or you plan on staying for more than a week. It's also a great way to get out of the hotel district and into a real neighbourhood, which is a fantastic thing in our opinion!
However, for first-timers used to the flexibility, convenience and security of a hotel/hostel, we recognise that Airbnb can be a little daunting. And maybe a little strange. That's why we've come up with this beginner's guide – so that you can understand how it works, learn from our mistakes, find the perfect room or apartment, and hopefully save a bit of money on your next trip!
As you can imagine when people are renting out their home, they want to be pretty certain that you are who you say you are. That means that once you create a profile (complete with great photo!), in order to be accepted for a number of bookings you will need to go through an additional verification process. This is pretty easy to do but will involve linking a social media account, uploading a photo ID (driving license, passport) and confirming your email address and phone number.
Check out previous reviews
If your Airbnb of choice has been around for a while, there should lots of comments from previous users. Read them.
Of course, don't focus on the single bad review in a sea of gleaming references, but if lots of people mention that the area isn't great, that the flat was a mess or that the host was useless, it's probably worth moving on to the next rental.
If you're truly an Airbnb virgin, we'd recommend that your very first rental is in fact one with lots of good reviews. Once you've been through the system a few times, you'll be more likely to let certain 'quirks' slide and understand the process better, but newbies may need to ease themselves in gently. We think Airbnb is amazing, so we want your first time to be great!
Be aware of weekly / monthly discounts
A substantial proportion of Airbnb hosts knock off a significant amount for stays of a week, and even more for stays of a month – which is why it's so popular with digital nomads and long-term travellers.
In fact, on a couple of occasions we've discovered that by actually booking longer than we've technically needed or wanted, it's worked out cheaper.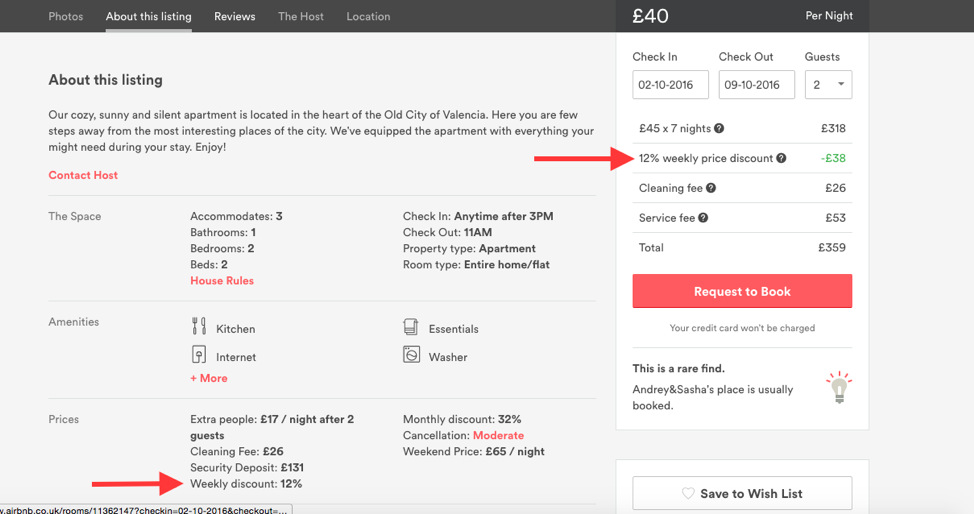 After a particularly 'interesting' stay in the suburbs of Toulouse, we've learnt to check and double check the location of our potential Airbnbs verrrry carefully. One factor that affects the price of properties quite significantly is location, so if it seems too good to be true, make sure that you're not in the middle of nowhere or the sort of place you shouldn't go out in at night.
Another good way to assess this is in the comments. Remember, the host can say anything and, as a first-time visitor to the city, you might not be aware of the city's no-go areas. Previous guests are usually pretty good at alerting future guests to this in the reviews. Similarly, simply looking at a flat on a map can be misleading – before booking, check out public transport options to/from the city centre from the apartment to make sure that there is a convenient and cost-effective option and that you are not hours away from the sights you want to visit on your trip.
Check the facilities carefully
Whilst you can select certain facilities within the search function, it's really important that you check the facilities listed very carefully.
A good example of this is whether or not there is a kitchen. We've found several apartments where it stated there was a kitchen (the host had selected it in the facilities check-list) but in the written description, it became clear that this was purely for making breakfast or using the microwave – not at all suitable for cooking a proper meal.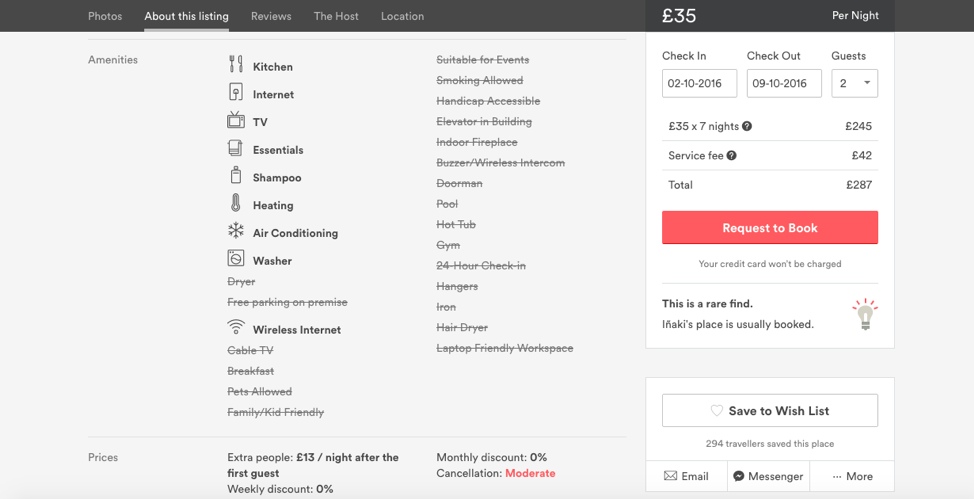 We've also found it really useful to double check about the quality of the internet connection and whether their claim to aircon is actually true. Whether hosts intend to mislead potential guests or not, sometimes what is specified is neither correct nor accurate. So, if you depend on quick internet or plan on cooking lots of meals, it's best to make certain before spending your money and confirming your booking.
The price depends on numbers of occupants
Unsurprisingly, if you plan on bringing a horde of mates with you, it's going to cost a little more than a couple's retreat.
You can put the number of guests in the initial search, so please do so or your results will not reflect the true cost of your stay, and you may miss out on better value accommodation.
If you've already booked your flights, then of course, you're going to be limited. However, if you're dreaming of a long weekend in Rome, then it might pay to check out the accommodation options in tandem with potential flights. By looking at availability a week or few days either side of your preferred dates, you might find an absolute gem of an apartment available within your budget.
There really is something for every budget
When you're brought to your initial search results page, some of the nightly rates may look more like weekly. However, do not fear – Airbnb really does cover every budget (it's just that it covers some very large budgets too!).  Have a tinker about with the search criteria and request that only rentals within you min/max budget appear.
For those travelling independently and on a smaller budget, consider renting a private room as opposed to the entire place. It will be significantly cheaper and give you the opportunity to make some local friends – but don't forget….
...if renting a private room you need to check the small print
As we use Airbnb to get a little alone time, we usually choose to rent entire apartments rather than private rooms. However, on a recent last minute trip to Valencia in peak tourist season, when anything that was vaguely pleasant and affordable had been booked up for months, we had to look into renting a room instead. There are so many extra things to consider when doing this!
Things such as who will I be sharing with (some people run there apartments like hostels and rent out multiple bedrooms to different people), what is the bathroom situation, is security a concern (most private rooms don't have their own locks), does the host have kids (that's certainly an apartment we'd choose to pass-over) and will I have access to all the facilities (several places we've come across limit you to your room only) are all issues that need to be considered.
Ask questions in advance, understand that each private room offer may differ vastly in terms of what they're offering and, if you aren't comfortable with what's on offer, do not book.
When you're working to a particular budget, you need to consider the extra fees that will be applied. For starters, an Airbnb service charge applies to all bookings and is non-negotiable. Additionally, a significant number of hosts will apply a hefty cleaning fee to your rental cost. Often, an apartment that is perfect for your budget on first look will reveal itself to be way more than you can afford when you factor in all these costs.
Also bear in mind security deposits. We've only ever rented one place that required this, and had no problem getting it returned, but always check the small print to establish whether this is applied to your booking. Unless you completely wreck the place, you're unlikely to lose it, but if it means having an extra couple of hundred pounds stopped on your credit card – it might not be money you have to spare.
Booking is not always instant
So, you've found your perfect apartment and you want to get it locked in as soon as possible. Unfortunately however, it's often not that straight forward.
Whilst there are certainly a number of 'instant book' properties on the website (those with the lightning bolt next to them), for most you have to contact the host to check the availability. This may mean a quick response and a booking not long after, but in some situations, such as during high season, you'll be met with stoney silence or a polite message from the host stating that they're fully booked.
And so, it's on to the next one!
...which is why you need to contact lots of hosts!
From years of booking with Airbnb, we've learnt to send out lots of feeler messages to potential hosts. Of course, it's probably best not to approach places you have no interest in staying, but usually you'll find a handful that fit your requirements – send them all a message!
This way, you should always secure at least a couple of offers and pre-approvals and hopefully, you won't be left homeless for the night.
And remember, when you do reach out to potential hosts, add a few lines about yourself, why you're visiting their home town and why their place would be perfect! If they like you and have availability, then they'll often reply quickly and 'pre-approve' you, which means your booking can be made much quicker.
If you've been used to a concierge service or on-site assistance, Airbnb could be quite a shock. Whilst a number of hosts are available to check you in personally, provide a tour of the property and tell you how everything works, lock-boxes or keys with neighbours (who often don't speak English) are not uncommon. In case this happens, it's often best to ask your host any important questions prior to arriving at the property.
You'll also be responsible for your own housekeeping. This might not be a problem if you're only there for a couple of days, but if your stay is longer than a week, you'll need to consider the issue of clean towels and sheets. We've never stayed anywhere where these have been changed during our stay, so for long-term rents it's worth renting somewhere with washing/drying facilities etc or a laundrette nearby.
Not all rentals are created equal
Every Airbnb will be a little bit different – often dependent upon the motivation for the rental.
You see, as the company has grown, so too have the number of hosts utilising the site as a business, meaning it's really not uncommon to stumble across users with 25+ different properties in one city (this is now generating a lot of controversy in some cities).
The benefits to renting with one of these guys is that you do achieve much more of a hotel set-up. There won't be any clothes in the wardrobe, photos of the owner or knick-knacks about the place, but often you also won't find cupboards full of condiments or plenty of tea bags. Of course, there are exceptions, and a number of these 'business renters' have supplied fridges stocked with beer and even a Nespresso machine.
We actually quite enjoy staying in someone's home, but there's no denying there's a difference. Here, you are surrounded by treasured possessions and fragile keepsakes, shelves full of books and a real sense of the place and city that you're living. Whilst you should still make yourself at home in these rentals, everything should be treated with the upmost respect – and that includes not rooting through their underwear drawer!
Just remember as well that if you have that one truly amazing experience in a genuine 'home', the next one may well not measure up – each host is different and offers a different level of care or support. Some will sit down with you and explain where to find hidden gems in the city, whilst others will just give you the key and leave.
Only pay via AirBNB secure system
This should be obvious, and yet we ourselves have been asked to pay external to the website. Whilst it may be tempting to avoid the Airbnb service fees (which can become pretty steep should your stay be of significant duration), you will lose all the protection that the company can give you should everything go tits up! Also, if someone is asking you to pay outside the system, you really have to question their motivations.
As we've mentioned elsewhere in this article, once you've got your reservation sorted, communication with your host is really important.
Let them know when you'll be arriving and the best way to contact you. You may well be in a country where you don't have internet, so those messages your host sends with Whatsapp on the day of your arrival will be lost in cyberspace until you hit internet again.
Find out all the important information before you board your flight, train or bus. Mobile phone number, address, how to get to the accommodation, specific instructions for entry – all are essentials that you'll need to store off-line. The Airbnb app has a number of these available even without internet, so make sure you download it.
If you want to check-in a little earlier in the day, or your flight home doesn't leave till late at night, make your host aware in advance. We've found people to be quite flexible and willing to suit our schedule, but only when they are given a heads up.
The hosts get to review you too
We told you earlier how important reviews are when choosing a place to rent, however do remember that your hosts can leave a review about you too.
Their purpose isn't to moan that you left a sock in the bed or a bit of sand in the shower, but if you leave the flat in an absolute tip, with bags full of rubbish in the kitchen and a broken bathroom door, they may well call you out for it.
Despite paying a cleaning fee, the unwritten rule is that you leave the place reasonably tidy upon departure – make sure you do.
What if I need to cancel?
What happens next really does depend upon the property.
Some are very flexible, and even cancelling last minute means you'll only lose the Airbnb fees. However, some others (especially if you've booked during high season) are much stricter, and even cancelling 30 days before your reservation will see you sacrificing a significant amount of the total booking fee.
The hosts can opt for a 'Flexible, Moderate, or Strict' cancellation policy, and their choice will be very clearly marked in the rental information. Always make sure to check this small print, especially if you're booking quite far in advance.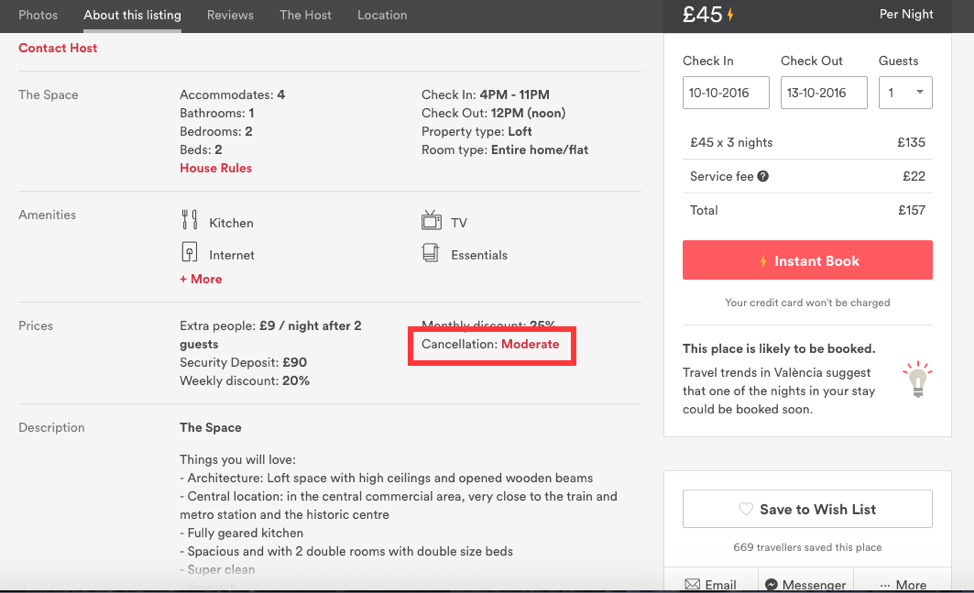 Once you've clicked on the hyperlink, you'll be taken to the cancellation policy page where it very clearly outlines exactly what you'd be entitled to in the event of a cancellation.
You should also be aware, that although rare, hosts sometimes cancel too. In fact, this happened to us, at incredibly short notice. Should this happen to you, depending on how far in advance, your host may well face a financial penalty. Although we managed to secure alternative accommodation at really short notice (on the day in fact!), we have heard of situations where Airbnb have assisted users to find another place to stay (sometimes providing additional funding if the cancellation is last minute).
AirBNB has a resolution team
If the above happens to you, there is thankfully support at hand.  If your host cancels unexpectedly, or your dream apartment turns out to be not so perfect, then Airbnb does have a fantastic resolution service. We've never really had to use them, but travellers we know have had great success in getting issues resolved and support very quickly.
If you're not happy, don't be afraid to reach out – that's what they're there for!