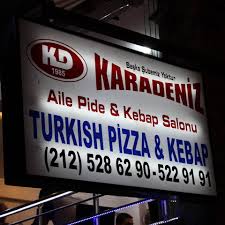 KARADENIZ AILE PIDE VE KEBAP SALONU – Istanbul
This popular restaurant near Divan Yolu has the typical style of the pizza places on the Black Sea (Karadeniz). It serves pide and kebap and it is crowded with merchants from the neighborhood. You can sit comfortably at one of the indoor tables (local women usually sit upstairs but they are not strict with tourists) or at one of the outdoor tables in the cobbled street.
They don't serve alcohol.
Try not to confuse this salon with the ones around, that has very similar names but are not at the same level. This one is at the corner of Biçki Yurdu Sokak.
☎ 212-528 6290
www. karadenizpide.net; Haci Tahsinbey Sokak 7
🕖11-23
🚊 Sultanamet